Five Type III Denim Jackets That'll Match Your Raw Denim Jeans, Regardless of Your Style
No other garment accompanies your jeans better than a denim jacket if you ask me.
Compared to jeans, the denim jacket is arguably more of a trend item in the broader sense of denim fashion. Yet, recently, it's seen a much-deserved revival, especially the 'trucker' style, and it's no longer fashion faux pas to wear 'double denim.'
For many denimheads, though, wearing jackets made from denim is as logical as wearing denim jeans. In fact, it may be an even more treasured item for many because you usually don't wear it out as quickly as you do your jeans, which means you have it in rotation for much longer.
I've had my Turkish-made Levi's Vintage Clothing Type I since 2008. I must have worn through at least a dozen pairs of jeans since then, but I still wear that jacket on a regular basis—even though the size small I got it in now fits rather snugly (the denim keeps shrinking, I keep telling my wife).
Seeing that you may end up wearing your denim jacket for a decade (or more), you've got all the more reason to make sure you get the right one. Even if you wear the jacket like a shirt, it'll simply take you longer to break it in properly (assuming that's what you want).
That's why I've, once again, enlisted the help of five retailers, who're serious about their denim, to narrow down your choices of trucker denim jackets. Coincidentally, all of them are made from Japanese denim.
3sixteen+ Modified Type III Jacket ($310 @Self Edge)
Self Edge stocks a denim jacket range that includes brands like Studio D'Artisan, Sugar Cane, and Iron Heart, just to name a few. Yet it's the Modified Type III 3sixteen+ that Kiya Babzani points out as his favourite.
It's essentially 3sixteen's very popular denim jacket with slightly longer sleeves, made in an unsanforized denim guaranteed to age well, which Kiya designed from the ground up with Andrew and Johan of 3sixteen.
The 'Caustic Wave' denim was developed with the intention of creating a fabric that would yield electric blue high friction points and a high contrast fade with regular wear," Kiya says, quoting the product description. The name 'Caustic Wave' refers to what the fabric will look like once worn in.
The shrink-to-fit denim's made in Okayama, Japan from tightly twisted and slubby yarns of uneven shapes and lengths, and there's a lot of variation in the weave. This creates an abrasive denim with a crisp and dry hand feel.
"This is for a customer who wants a denim jacket he can live in for a long period of time. It's the type of jacket you can imagine yourself owning for years due to its heavy weight denim, hand pockets, and durable construction," Kiya argues.
"The jacket is popular with Self Edge customers because it ticks all the boxes for a denim jacket," he elaborates. "It's not only functional but it's made of a very interesting denim and sold at a price that is still affordable."
Visit Self Edge's webshop to see more pictures of the jacket. (Unfortunately, no 'fade pics' are available, yet.)
Menno Van Meurs and his team at Tenue de Nîmes are shining the spotlight on orSlow's black stonewashed denim jacket. It's based on the legendary Type III jacket but has an updated slim fit.
Menno is not the only European retailer who's favouriting Japanese designer Ichiro Nakatsu's repro brand at the moment; it's found a home at our continent's leading menswear stores such as Frans Boone, The Belfast Bureau, Oi Polloi, Meadow and Norse Store.
I clearly remember the first time I touched a pair of orSlow jeans two years ago during Paris Fashion Week. My first reaction was: this is impossible!" Menno recalls. "This feels like a vintage 501! The shade of the indigo, as well as the touch, really made me feel like I was holding a 1970's Levi's jean."
If you're looking for Japanese-style Americana, orSlow is one of the best, Menno argues. "orSlow is the kind of brand that takes American basics and puts them to a higher level!"
"The brand's trucker-style Type III jacket is popular with customers because it's clean, well designed, fits like a glove and has a beautiful natural vintage look and feel," the Dutch denim curator pitches it.
The black stonewashed version was just delivered and Menno expects it to sell out quickly. "The light blue one we've had previously always sells out in the blink of an eye!"
Get it while it lasts here.
London's Rivet and Hide has one of Europe's best selections of 'rare' denim jackets, which includes brands such as Pure Blue Japan, Ues, Stevenson Overall Co. and Rogue Territory.
Nevertheless, owner Danny Hodgson's favourite is also 3sixteen's Type III jacket. Andrew and Johan clearly did a great job on the design of their slim fitting denim jacket, landing 2 out of 5 spots on this list.
The one Danny is highlighting is the Shadow Selvedge, and it's not hard to see why. The denim's indigo dyed warp and black weft give stunning fades!
Other standout details include the corduroy-lined cuffs and pockets, the zig-zag stitching under the collar, the selvedge placket and hand warmer pockets. Not to mention that the jacket is reasonably priced and expertly constructed.
The great fit and renowned Shadow Selvedge fabric offer a smarter look than a traditional denim jacket," he explains. "Worn hard, this jacket fades with super high contrast with crazy honeycombs around the elbow."
Danny usually sells it to customers who're looking for a traditional denim jacket with a modern fit and fabric. It's got a smart casual look that works equally well with chinos and jeans.
He adds that this denim option is a great way to wear a denim jacket with jeans whilst avoiding the denim tuxedo look if that's what you want.
Take a closer look at the jacket here.
No trucker denim jacket list is complete without an Iron Heart. The international division of the Japanese brand has a solid selection of truckers, and one of the best places to pick one up is from the seriously nice people at Vater&Sohn in Hamburg.
My favourite denim jacket is the Iron Heart IH9526J 21 oz. 'Superblack' Type III," says owner of the store, Sascha Kampmeyer.
One of the main reasons he favours this jacket is the brand itself. "I don't think I have to mention Haraki-san's influential role in the whole Japanese denim business?" he asks rhetorically.
Sascha naturally refers to how Iron Heart founder, Shinichi Haraki, together with Giles Padmore, built a brand that has become synonymous with heavyweight garments, the highest quality and an impeccable style.
Haraki-san is the master of reinterpretations and with this Type III jacket he raised the standards of how it should look and fit today."
From the buttons to the last single stitch, this jacket is crying out to be worn hard, every day. And that's would you should do, according to Sascha. "The first days feel like you are wearing body armour," he warns, "but it turns into a soft and very comfortable jacket."
Naturally, you can get a 21 oz. indigo-dyed trucker jacket from Iron Heart (for instance here). But Sascha's favourite is the Superblack one. "I come from a heavy metal background, and I still have an affinity for black stuff," he says.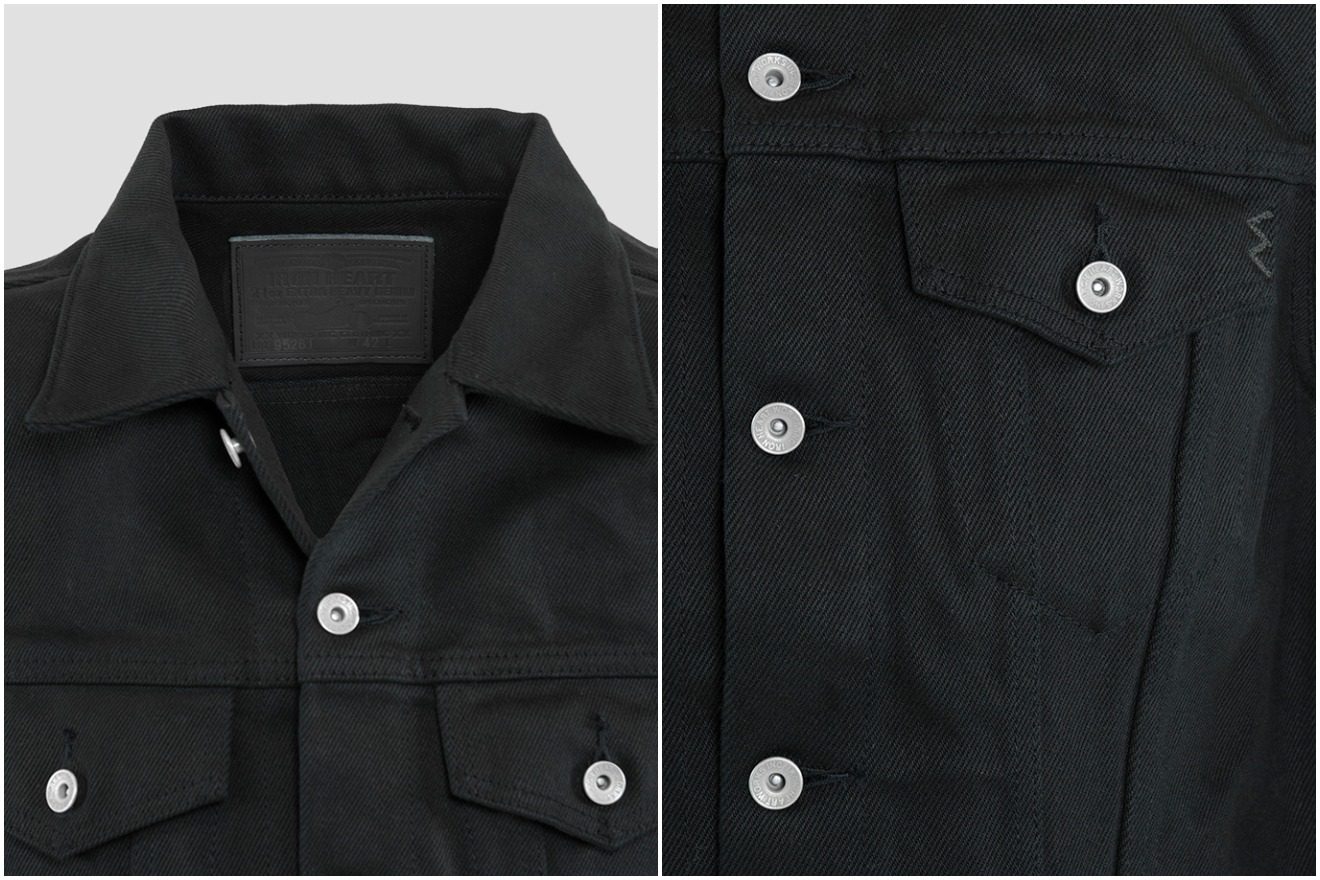 The jacket is made from 21 oz. non-fading reactive dyed cotton (which doesn't fade!); it has felled seams, custom-made buttons, and a tight but comfy fit. "If I had to choose one jacket, this would be it. No doubt!"
The IH9526J is sold out at Vater&Sohn at the time of publication, but Sascha promises it will restock next week. While you wait, check out their extensive Iron Heart selection here.
To those out there who don't read ONI, '02527ZR-BKBK' translates to the Japanese brand's 20 oz. 'Secret Denim' in double black.
It's the very first time ONI have ever released a black/black version of their Secret Denim, and this special piece is already a firm favourite of Alfie Boyle, general manager of NYC's Blue in Green.
This fabric was developed to create a black denim that fades similar to traditional indigo denim, but with a unique character of its own," Alfie tells me. "The weft yarns are dyed black to the core. The warp yarns are rope-dyed, leaving the core of the yarns their natural colour," he elaborates.
The black sulfur dye breaks down to shades of grey as it wears, with the weft fading to a lighter shade of grey, and the warp gradually exposing its white core.
Due to ONI's signature low-tension weaving, the denim has a soft feel with an irregular and slubby texture even though it's a heavyweighter at 20 oz.," Alfie ensures. "Of course, as this is a 'secret denim,' only a select few at ONI knows all the special techniques that are involved with creating it."
The jacket is based on the classic slim silhouette of the Type III trucker jacket. Alfie expects to sell it to guys (or girls) who're looking for a classic slim fit jacket with incredible construction that will last for years, and only get better with age. An iconic design elevated through the unique fabric.
Exclusively for Blue in Green, ONI have made a blacked-out version with a black leather patch, as opposed to the brown one on most ONI products. The New York retailer also has a special black/black Secret Denim jean with the black patch and back pockets without signatures.
"The much-anticipated 02527ZR-BKBK jacket will come into stock in the next few weeks," Alfie promises at the time of publication. In the meantime, you can take a look at Blue in Green's ONI selection here.
Want to Learn More About Denim?
If you want a heads up whenever I post new stories, you can sign up for the Denimhunters email newsletter.
I also offer freelance consulting, which you can learn more about and request here!